Bag Packaging and Sealing Machines
For sealing poly film and paper bags
Bag. Seal. Repeat. Get a quote or more information today.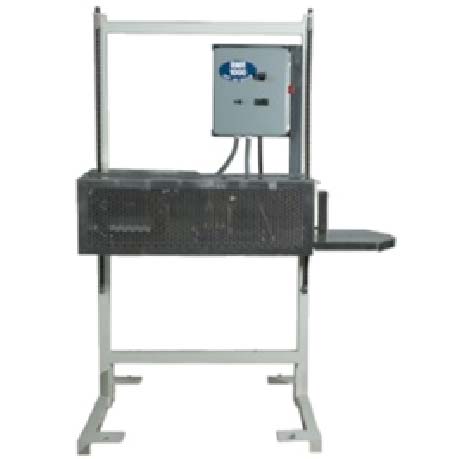 Model 1000 Hot
Air Sealer
The Model 1000 Hot Air Sealer provides efficient, cost-effective sealing for non-gusseted pillow style polyethylene (PE), polypropylene (PP) open mouth bags.  It produces sift resistant bag closure for a wide array of products from compost and soil, fertilizer, industrial chemicals, at rates of up to 20 bags per minute.
Band Sealer Model 2001
Model 2001 continuous band sealer is designed for high production in harsh industrial bagging operations closing polyethylene and polypropylene gusseted bags and pillow style bags at rates of up to 25 bags per minute. The Model 2001 can be integrated into both manual and automatic bagging lines.  This low maintenance band sealer features higher heat generation than comparable models and a cooling section standard to allow for faster bag handling after sealing and easily accessible band replacement.  
BUILT TO BAG. BUILT TO LAST.
Choice Bagging Equipment machinery and systems deliver industry leading performance, ease of use, and professional service and support.
Proudly manufactured in the USA since 1978.
CBE manufactures bag filling and sealing machines, bag conveying equipment, unloaders, palletizing systems and more. Our customers include agriculture, food, energy, concrete, fertilizer, recycling, forestry, minerals, and other industries.
Contact a CBE expert today for a quote or to answer your questions.
By submitting a form you are simply indicating purchase intent, this form alone does not finalize an order. Once we receive the order request, a company representative will contact you to confirm details and obtain the payment method. Prices above do not include applicable sales and use tax, or shipping.
We recently decided to take our manufacturing and bagging game up a notch, by installing automatic bagging equipment. Our factory works with a large assortment of different materials, and needed the ultimate in flexibility and dependability if we were going to take on this project. It being our first time, we wanted to thank CBE for helping us out with the bagger professor tool. We used it to narrow down our scope to only the bagging equipment we most needed, and then were able to discuss the purchase and additional options with an extremely helpful CBE associate. We are off on our bagging
journey and confident in our purchase from Choice Bagging Equipment